In this builderall review I will discuss the platform, some of it's tools and the builderall affiliate program and what it has to offer when you sign up.
Builderall is a all one platform used for marketing online. It is a software that helps you create websites, sales funnels and opt-in landing pages for any business or niche.
The software has hundreds of applications, many applications are automated. It is simple and easy software to use, that is drag and drop.
The drag and drop editor is called the pixel-perfect technology.
The technology allows the user to take any element and drag it where ever they want on the page.
Builderall allows three different views that work on desktop, tablet and mobile.
These three views have the benefit of working exactly as you want.
However, it really takes time to set up the mobile version. It can be difficult when first learning.
Some people do not like clickfunnels, mostly because of the price.
Builderall is very inexpensive and has many benefits. There is a 14 day free trial.
Compared to clickfunnels this is so much cheaper. But, Builderall is increasing their price again,
now the second time. Right now before September, 2020 it is $69.90. This plan includes everything if you want to be an affiliate.
There are those who have made good income from promoting builderall and those who have done well,
but left the program anyway. For example, Liam James Kay was a top affiliate of builderall and
now he promotes Kartra. Also, Marissa Romero once promoted builderall too and now also does Kartra.
Now, most people choose builderall because it has many tools for a great price.
But two of the best affiliates left no matter. 
Why Left Clickfunnels? Pricing
Now, many people chose builderall because it is cheaper than click funnels. 
$97 per month this can be a lot when starting affiliate marketing
20 funnels
100 pages
20 thousand visitors
Unlimited contacts
Custom domains 3
$97 per month is just to create funnels and landing pages, but with affiliate marketing you want to do email marketing, so you can convert your customer and get the sale.
Second reason why left clickfunnels doesn't have an email marketing tool.
You have to pay $297/month for the email tool. There is no automation tool for the email unless you pay 297 which is the actionetics.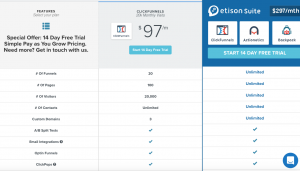 If first starting affiliate marketing this can be a lot of money.
When first starting you want to earn and grow your income at same time
So is there an alternative to create websites, blogs, funnels, and also has an email marketing tool that is way cheaper, this is why most choose Builderall.
It allows you to lower your expenses at same time growing your online business. It is way cheaper,
has lot more tools than clickfunnels, it allows recurring monthly income when using the affiliate program. You can promote other products and use their affiliate program.
Builderall is similar to clickfunnels, drag and drop.
100s of templates to use, edit, fast easy to use, lots of categories to choose depending what niche you are in and what business you are involved in.
Don't have to be an affiliate marketer to use it.
If you have website business like fashion and beauty, photography, restaurant businesses, health and
wellness. It is a great platform for any business.
It has landing pages, two step opt, email opt in, membership area, extraction pages and the list goes on.
If don't know how to structure landing pages and websites builderall gives templates and
you just change the headline, images, and fonts.
There is a template if you are a video maker, which is easy to use.
Another thing is their email marketing and automation tool which is called mailing boss allows up to
10,000 subscribers, once pass that can upgrade for very small price, there are video tutorials so can learn
how to use builderall, within just a few hours if you put in the effort.
However, despite that the mailing boss is included many people use Get response as an autoresponder. Get response is used by most people because the mailing boss sends emails to spam majority of the time. 
Most of the top affiliates use Get response and market the whole platform. Honestly, to me this doesn't sound right. If it works well then why not use all the tools???
Personal Experience
Also, from my experience, mailingboss can be difficult at first and as mentioned most of the
top affiliates with Builderall use GetResponse. I used mailingboss for a while myself. And
I did get the hang of it. But it usually has the email messages go to spam.
Personally, I like GetResponse and setting it up with WordPress.
GetResponse has 24/7 support, live chat, and their email tool is very easy to set up. Best of all, it delivers,
no spam to worry about. To try GetResponse for 30 days free, click here.
I have also seen some builderall affiliates use WordPress and builderall.
There is hosting available with builderall and an integration with WordPress.
But it doesn't seem like many use this tool.
One platform I use that has a lot of tools, training, hosting available for great price is Wealthy Affiliate (WA).
Wealthy Affiliate is an all in one training platform that teaches online marketing and
affiliate marketing for any business.
Wealthy Affiliate has no up sells, and their price is great. There is a free test drive, no credit card needed.
Access to everything is explained in this video below.
When signing up with Wealthy Affiliate you get all the training below and more.
SEO, keyword research, access to JAAXY keyword research tool.
Learn how to Rank your website page of Google free, no paid ads
Social media marketing training (facebook, google, Pinterest, youtube, and more).
Learn how to build sales funnels
training for drop shipping
Live event training every Friday (so many topics)
How to build a website
hosting included for 10 websites and one free website upon sign up
24/7 support Live chat and support from WA community
Affiliate Boot camp training (can be used for any marketing online)
Templates for building your websites
Campaign Manager
Link tracker
learn paid ads
how to get traffic
I only promote affiliate products that have value and I believe in and can provide value to others, and
can help them with personal development and business development.
A lot that can be done with builderall you learn through Wealthy Affiliate.
Including websites and sales funnels. There is also training for email marketing. The best part about Wealthy Affiliate is that there are no up sells.
Once you are a premium member you get access to everything for the same price.
As you can see it is an excellent training platform. And remember you learn how to rank your website for free on google. See here below I rank with my website number two on google.
The area that is green is my website. 

And yes, you will learn how to rank your website. Many members are able to do this,
it just takes little dedication.
Builderall Affiliate Program VS. Wealthy Affiliate
Builderall is set up with a two tier platform. Meaning when you refer someone you get a commission and
so does your sponsor.
First month someone buys, you get 100% commission and then on second month and recurring months you earn 30% and that's how you earn recurring income and more leads you get,
the higher the recurring monthly income, which is tier one.
Tier one- so first month 100% on first commission and after that the second month and so on you will get 30% recurring income every month.
Tier 2, 30% for second month and onward if someone from tier one signs someone up and
that's how the recurring income works.
Now with Wealthy Affiliate there is no two tier set up.
And you don't have to promote Wealthy Affiliate if you don't want to. You can simply use the training and
learn affiliate marketing to build your own online business.
If you choose to promote WA then you simply get paid when someone signs up with your link.
Depending what plan the referral chooses you get a paid every month.
Here at Wealthy Affiliate you are not forced to promote the platform and
you can still have access to all the training. And there are over a million members.
As you can see most people don't leave Wealthy Affiliate.
As I mentioned before a few top affiliates with Builderall left.
With Wealthy Affiliate you can learn to promote any business.
Even if you are new to affiliate marketing, or even if not new and not sure how to promote online.
And remember here at WA you learn how to rank your website for free on google.
With WA you are trained by a top affiliate marketers, you will get two training platforms,
live events every Friday, one on one help, and get some of the best digital marketing tools
you can use to build other businesses for an incredible price.
Check out the free test drive below. Once you sign up, you get one free website and some training for free to start with.
Join Now! Start Earning Online!