Builderall MailingBoss Review-Unlimited Email Marketing Forever
The email marketing system inside of Builderall is Mailing Boss. All money made online is generated through email marketing. The best way to do email marketing is by having an automated platform do all the work for you.
With Builderall Mailingboss, you can easily create email campaigns and sequences that respond to the behavior of your leads so you can make more sales. Plus, with Builderall Mailingboss you get unlimited email marketing forever. 
No limits with how many leads or the number of emails you want to send out. Mailingboss gives you the ability to build your email list as big as you want, without having to worry about limits or what you can sell.
Builderall is an all in one digital marketing platform with many tools for marketing.
MailingBoss Autoresponder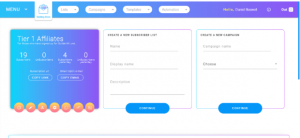 Once you've set up your first list, you will go to the main dashboard.
The main dashboard shows the newest list you created, lets you create a new list, or create a new campaign.
Navigating Mailing Boss is confusing at first. Now it is easier than before and there are tutorial videos to follow. Also there is access to support if you need help. Support responds pretty quick and I found them really helpful.
There is a full menu that is accessible at the top left.
Most people won't need all of the features but it is nice the have multiple ways to get around.
Also, if you have a list larger than 10k, you can upgrade for more subscribers in the full menu.
Building a campaign is fairly easy.
One cool feature is email sequences can be shared with other Mailing Boss accounts!
So if you build an email series with 10 emails and feel like sharing it then you can! Overall, Mailing Boss is a very good email marketing platform, especially considering its part of the larger BuilderAll package.
Ditch all other email marketing services you use. Mailingboss can achieve everything you need, all in one place, to run a successful email marketing campaign.
How much will MailingBoss be after this private offer?
​​​​​​​Hard to say right now. This is a limited time offer but we plan to charge a monthly fee and there will be "subscribers limit" plans in the future too. If you purchase the plan now, you won't be affected by any of this.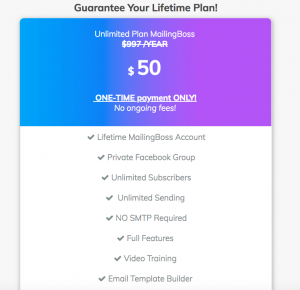 Other platforms like Aweber for a list of 5,000 to 10,000 is 69/month
10,000 to 25,000 is $149/month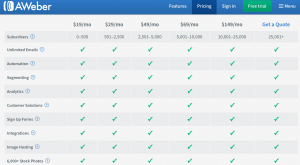 With GetResponse if you have 10,000 it is $165/month
List of 100,000 plus is $1,199/month about 1200
10,000 is $165/month.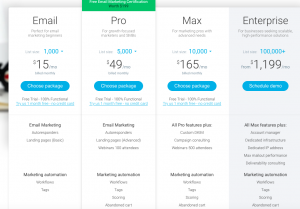 These prices are kinda expensive if you are just starting out. And having an email list is really important. This how people get to know you and trust you and eventually buy from you.
Email Marketing Basics
Basically, you have a lead magnet of some kind or have a landing page and you are giving away something for free.
They are opting into a sequence of emails and most people keep the list short, couple of emails. It is good to take them through a long sequence, a long-term funnel using valuable content and just keep adding to the list.
Try to make a 30-day sequence so you can track all the sales that are coming, so you can see how much money a 30 day sequence of emails is worth to you. This way whatever money you are spending on advertisement, you can see what profit you are making.
Do not sell every time, you need to build trust.
It takes a couple months of you providing value and building relationship before you can have a good open rate and click thru rate.
You have to show that you are a valuable resource and that they can trust you. It can take one month of having no links in the emails to build the trust. So this is something you have to do for that long term goal. Think about the long-term value of that lead, think about that life time value of your lead.
7 Tips For Email Marketing
Build a Relationship with your email list
The customer signed up for free so, don't sell right away, provide valuable information that will help them.
Deliver on your promise of free valuable information
For example, give them some free info fitness or weight loss
Send videos giving them advice or tips, somewhere so they can get more information. This will help to build a relationship. Once they see what you look like, this will help to build trust.
The money is not in the list, it is not how big of a list you have, it's all about the relationship when you are building your list.
       2. Put time into the subject Line
The subject line decides if they are going to open it or not, so this is important.
Think of a catchy subject line so they will open it but don't make it too spammy.
Make it like a headline, like a youtube title, Think about what your email is about. Make it so they are curious so they open it.
        3. Keep it short and to the Point
Its better to keep the email short and to the point, people don't really read their email, they scan it.
So keep the fluff out, don't over think what you have to say, just say it
         4.  Space out the text in the email
Max you should have 3 lines together.
Reasons why= People don't read their email, they scan it. So when it is spaced out they almost end up reading it because it makes it easier to read.
Example, Thank you for subscribing to my email list.
Space
Space
Here is your Free Ebook about whatever
Then space, space.
People scan the email, they want to get to the point, so keep it short. If there are some valuable tips, they will read it.
You can look at your competitor, opt into theirs and see how they do it. See what works.
       5. Send them to other Funnels
So just because they opted in once doesn't mean you cant send them somewhere else
Send them to a blog post or youtube video, keep them interested and engaged by using content. (The video doesn't have to be yours, as long as its helpful information)
Send them to a funnel you put together that is valuable and maybe it has something promotional at the end where you are selling a product
        6. Segmenting
Means if they open a certain email they are going to get sent a different email then the person that didn't open the email
Same thing if they clicked on the link in your email, maybe you don't want to send the person another promotional email if he already clicked on something
Or people that didn't click on the link you can send them more emails that are helpful
        7. Treat your Email list like you are talking to them One on One
Be personal with your list and treat it as if you are talking to them as a friend, one on one. Make like a conversation.
You can use their name, make the opt in page so they can put in their first name.
Use the name in the subject line or in the emails so it's more personal.
The opt in rate might go down, but it might help in the long run, have to test it out.
So go through these tips when you are doing your email marketing and remember to have that longer email sequence (30days) so there is a long term value with your customer
I'm going to show you how you can get unlimited email marketing forever, This is for limited time only.
I'm going to show a system that I use, and that a lot of top marketers are using now.
This system is Mailing boss.
Capture and send unlimited emails. This will allow you to start building your email list without charging you hundreds and hundreds of dollars.
F.A.Q.
Are there any limitations?
​​​​​​​No – You can send unlimited emails to unlimited subscribers. We should call it MailingBoss Unlimited.
Does MailingBoss work on Mac?
​​​​​​​Yes, it does! MailingBoss works not just on your Mac, but on your smartphone, your tablet, your Linux installation and your Chromebook too. That's because MailingBoss lives in the cloud, on our high-grade secure servers. Which means all you need to do is connect to a web browser to use it.
Can I have a dedicated email server?
​​​​​​​YES! We have custom solutions for you. So, whatever happens, MailingBoss can provide the perfect solution for your email marketing needs.
Can I import my current subscribers' list?
​​​​​​​YES! However, we will need to do a few test emails when importing new contacts to check for email compliance. If you want to avoid that, you can also connect MailingBoss to Amazon SES or your SMTP of choice.
How much will MailingBoss be after this private offer?
​​​​​​​Hard to say right now. This is a limited time offer but we plan to charge a monthly fee and there will be "subscribers limit" plans in the future too. If you purchase the plan now, you won't be affected by any of this.
Get Unlimited email marketing, No strings attached, get unlimited subscribers, life time mailing boss for one time fee.
If you don't take advantage of this, you are losing out.
Campaigns-Email regular means can send out board cast, Email sequence is email auto responder, can also put custom tags
Advise you guys to check this out, this is for Limited time only.
This will be the only email auto responder you will ever use, ever again, Make sure you click the link below. It is only $50 one time payment, for limited time only. No monthly fees guys, take advantage of this.