People will always want to be prepared all around the world. There are many situations which people need to be prepared, such as earthquakes, tornadoes, storms, pandemics, and an economy crisis.  
When focusing on this niche you can discuss camping gear and survival gear
all on one website or sales funnel. There are many different types of survival gear, tools, food,
equipment for RVs, different vitamins can be discussed, protein shakes,
tents for camping, equipment for camping, camp fires, batteries, flash lights, etc.   
Below you will find a list of the top 5 survival affiliate programs. Free Ebook is available.
If you want the full list, check out my free Ebook, Profitable Affiliate Niches. Just enter your email address once the pop up appears.
Now back to some ideas for the survival niche.
Also, you can try a sub niche like hiking or back packing for travel. A lot of the gear used for camping and
survival can go together with hiking or back packing.
DayOneGear is the first affiliate program you may want to checkout.
They have products such as survival kits, emergency gear, long term food storage,
solar power kits, individual survival items, first aid kits, preparation plans, and so much more.
The company also has a section on their website where they focus on sharing information
teach people how to prepare for emergencies of all sorts. 
Their affiliate program is managed by ShareASale, an affiliate network. The commissions for this company run at 10% and the affiliate cookie link has a duration of 365 days. Yes, you read that right, 365 days. So this means you have plenty of time for the possibility of making a sale. 
2. MIRA Safety affiliate program has high quality respirators, safety equipment, and tactical gear.  
The commission run at 15% and average sale is at $435.00. Their affiliate program even offers promo codes to the affiliates so the customers can get discounts. And the affiliate cookie link is 30 days. 
3. TheSurvivalDoctor affiliate program, which is managed by Dr. James Hubbard,
a family doctor with experience of over 30 years in practicing medicine. He has plenty of medical information regarding survival medicine in case of hurrincanes,
earthquakes, tornadoes, floods, terrorist attacks, or any time you are isolated. 
He also has online emergency training courses, which has the potential to earn you 30% commission rate. The affiliates get paid within 45 days. The average commission pays from $29 to $149 for every sale. 

The mission is to educate those looking to protect their families and provide them with the most
advanced survival gear all at affordable prices.
For more information click here http://thesurvivaldoctor.com/affiliate/
4. StatGearTools has commissions that pay 15% per sale and the cookie is 60 days.
This company is connected with ShareASale, an affiliate network. So you have to apply with them as well.
Here is the link https://www.statgeartools.com/affiliates/
The company's main focus is on tools for rescue, survival, and everyday carry. Check out the website for more information. 
5. SurvivalLife is another great program. Their commissions can earn possible 75% per sale.
Check here for more information https://survivallife.com/affiliates/
They also have lots of gear, food, tactical supplies, information for preparing your home and
yourself regarding defense supplies and protection.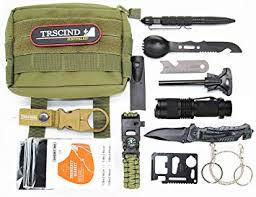 Now, these are all great programs with great commissions. But you need a way to market the niche.
One idea is disaster preparation kits for people wanting to buy everything they need all at once in a kit. 
You can simply market preparation kits together with survival courses. Courses sell great and with
the survival Doctor affiliate program everything is done for you, all you have to do is get traffic.
Another sub niche idea for survival affiliate niche is long term food storage.
You can simply write reviews about different types of freeze dried foods and do videos too.
In addition to long term food storage, you could combine the survival gear with supplies needed for living and camping in RVs or vans.
As mentioned earlier, the survival niche and camping niche can be combined.
But I highly recommend you promote one product at a time.
Steps for Success
Focus on one product for at least 6 months.
Promote that product by doing free traffic methods. (You want to test and see what works best.
Maybe video marketing or facebook).
Make sure you start building a website or funnel
Once you start getting sales, then add another product and try to up sell the customer.
Once you are making sales from one traffic source, start another traffic source.
Build content on one social media platform at a time. And don't stop. Content is King!
Learn more from my 1# recommendation Below. Free sign up!
Boost Affiliate Commissions!
There are many ways to get traffic to earn commissions. You can write reviews about certain products on an affiliate website, can do how to guides for survival, can do top 5 survival gear, video marketing, and more.
To learn everything you need to know about getting traffic and conversions, check the link below.
Learn how to build an online business, not just pocket money. Free sign up below.