What is the Internet Marketing Coaching Center? IMMACC A Scam?
Internet Marketing Mentoring & Coaching Center or IMMACC was founded by Gerald Van Yerxa. It is an online marketing training school that started around 2008, formerly known as Big Ticket to Wealth, which started in 2007 from Canada.
This article will cover IMMACC a Full Review! IMMACC has internet marketing training with over 700 hours of teaching and coaching on how to advertise any business on or offline.
Internet Marketing Mentoring & Coaching Center IMMACC charges about a hundred dollars a month for membership training.
IMMACC has great training opportunities available, but they are really expensive. It can cost from $2,000 up to join.
The membership includes over 700 hours of instructional videos, live one on one mentoring and weekly training webinars. They also keep updating as new ways to market online become available.
They do teach you how to market your own business online as well as the opportunity to learn and market with IMMACC.
One thing about IMMACC that is skeptical, is how they say you can make a lot of money if you join their mentoring program. My question is, if it cost a lot to join, how can you make money online???
There are those who have been successful with IMMACC, so I'm not saying it is not possible to make a lot of money with their mentoring program.
But it does cost few thousand dollars to join. Most people do not to have that kind of money to spend.
Internet Marketing Mentoring & Coaching Center IMMACC is a respected and well known business and the owner is well known in the industry. They do not engage in pyramid schemes and they focus on teaching their members proper techniques for real marketing.
The company focuses on free marketing techniques, as they do understand how important it is to get traffic for free versus paid advertising.
They focus on teaching how to get traffic to your website organically through keyword research. As you can see they do have a lot of training. However, there are other companies online that off plenty of training for a much cheaper price.
In addition to the training, Internet Marketing Mentoring & Coaching Center- IMMACC offers an affiliate program that pays commissions on referrals you bring in and also pays you commissions on everybody your referrals bring in and so on.
The commission plan is very generous. Each sale pays you a commission of $1,000 and any sale your downline makes also pays you the same bonus of $1,000. Your sponsor will help you through the steps to close the sale if you need help.
However, I would not join due the expensive cost. Also, I was looking around just recently and there is a waiting list to join. Meaning new members can not join. Not sure how long this will be, but there is currently a waiting list.
Another question I would ask, I would a company do this? An online marketing company should always have their door open to new members. Makes no sense.
More about the company.
They do have live webinars, keyword research tools and training. They also have mentors that are supposed to be available for you, if you need help.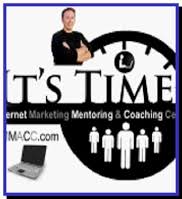 But the truth is those mentors that have succeeded have a few people on their team and the main sponsor always wants you just to learn everything by watching the videos.
In other words, there is not much room for asking questions if you need help.
IMMACC has a large back office once you join, but like I said it costs a lot to get started. There is available training for youtube and other social media sites, so you can learn to get more traffic.
Topics include lessons on keyword research, Web 2.0 and SEO, article marketing, social media and video marketing, blogging and so much more.
Once you are a member you get your own individual and professional designed website, landing page, promotional materials and training tools as mentioned.
Truth. However, a lot of people online have claimed to lose money by joining their marketing mentoring team.
I personally would not bother with an online training program that does not offer the enough available support, especially if you are a beginner with online marketing.
IMMACC has a lot fees just to get someone started when you first join and honestly you can find a lot of the training they offer for a cheaper price. So do not bother with this program.
Number 1 recommended
You should find a company that offers training for keyword research so you learn how to get your website ranked in google organically.
What I mean by organically is so you do not have to pay google to be found on the first page. Meaning people can find your website for free.
Also you should look for a company that has videos to show you how to create your own website, so you can learn to build your own business independently. Everything should be taught step-by step.
You need to have your own niche in online marketing. A niche can be your hobby that you are interested in, such as fitness and fitness equipment.
There are many affiliate websites that allow you to earn money when you sell their products, such as amazon. In order to do affiliate marketing the right way, is through proper training and having your own website.
Therefore, you want to look for a mentoring program that has training to help you find your niche and build a website focused on that niche.
Mentoring Program Recommended:
The online mentoring program needs to have training available so you can learn how to get traffic to your website. One way to get traffic to a website is by making videos and then posting these videos to a facebook fan page.
The benefit of making videos is it allows you to brand yourself. What I mean by this is, you tell people about yourself and what your business is all about. The more flashy the video, the better.
Another way to get traffic for free is by writing articles. There are some websites that will allow you to write articles for free and if your article has the right keywords you can rank high on google for free.
 This company I'm talking about does have support 24/7 and actually does have their community of people help you.
Everything I mentioned above is included with Wealthy Affiliate. You get live Webinars, keyword research training, banners, video training step by step, how to build your own website with word press, social engagement, training to help your content for your website.
You can read more about the company, click here and read the full review. You will not be sorry. There is so much training on the inside.
And Sign up is free. Many online companies do not offer free sign ups. But we do. Free test drive is awesome opportunity.
 Look for a company that has no up sells in order to have access to certain training. The membership price should be reasonable as well.
If the company has too many promises about making big bucks online, then I would suggest not to buy into it, these are just tactics to get you to join. 
Click below to find out more. You Get two free websites and the sign up is free.