What Are Click Funnels? Russell Brunson Click Funnels
What are click funnels? Russell Brunson co-founder of Click Funnels a software company that helps get entrepreneurs message out faster, especially in online marketing.
Russell Brunson has published and sold over 250,000 copies about marketing online. He has become seriously popular with sales funnels and helped many business mangers get their word out in the marketplace.
Click funnels is what basically helped Russell to increase is conversions and profit. But this might not work for everyone.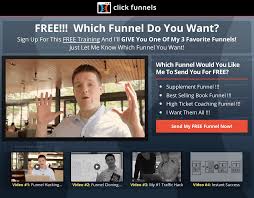 ClickFunnels offers a digital marketing strategy for website owners and those who make blogs. There is an affiliate marketing program as well.
Is this a good way to build passive income? Read on.
ClickFunnels is a sales funnel software, which helped to solve Russell's problem with making sales funnels.
The price for ClickFunnels is about 97$ a month and this is just the basic membership folks!
Click funnels can basically do the work of landing pages and auto-responders for you. The software basically replaces the use of a website. But does this mean it is an easier way to sell and profit?
No. You need to get traffic. In order to get traffic with sales funnels some use advertising, which is mostly done through social media ads. Facebook ads can cost a lot of money.
It is basically a campaign. Campaigns do not always work. Most people are new to Facebook ads so it doesn't always work. You can spend a lot of money making Facebook ads and not make any profit.
How Much Click Funnels Cost
ClickFunnels Basic membership includes: $97/month
Website Hosting
Landing Page Software
Email Autoresponder Software
Split Testing Software
20 Sales Funnels
100 Pages
20k Visitors
Upgrade membership $297/month which includes everything mentioned, as well as:
Unlimited Funnels
Unlimited Domains
Unlimited Pages
Unlimited Traffic
Backpack and Actionetics
The subscription is on a month to month basis. But once you cancel you can lose everything. This is not having your own website. This is risky, you could lose everything.
Not every business requires you to have every tool. It can be done with a few modules and simple strategies.
If you are just starting in online marketing this could really cost a lot, just so you can have your own business.
Who else uses sales funnels or click funnels? Adam Wenig uses sales funnels with click funnels. Global Dream Builders is all about using sales funnels and adding affiliate links to them in order to promote your product.
Adam Wenig does not teach you how to build a website of your own. His promise is basically a website that will generate you 3K a month or more. You do learn how to build a sales funnel page from Adam, but not a website.
Also, Adam shows you how to get traffic by advertising all over social media with ads. There is no quick get rich scheme. Online marketing requires work, training and dedication. Read on and you will understand more and that this might not work for everyone.
Review:
No matter what you need to get traffic. You can have the best looking landing page and no traffic. Therefore, you need basic training for online marketing.
ClickFunnels may help to get someone more conversions, but it does not do everything for you, you need traffic.
The Good:
ClickFunnels has a 14 day trial, so you can try it out.
With click funnels it allows you to have third party connections such as with (click bank, paypal and GetResponse)
Can be attractive and have everything you need for your online business
The Bad: Whatever hosting you have, it is not yours. If anything shuts down, you lose all your content and connections.
Some of the webinars funnel are said not to be that good when looking at other resources
Prices are high
Some designs are said not to be as fancy as Leadpages
Rap up:
If you use click funnels, you need to be careful, it can be costly. If you have a small business, all this stuff is not necessary.
If you want to read up on Adam Wenig and Global Dream Builders, I suggest to click here.
Adam Wenig uses click funnels. Personally, I would not want to be a part of it. It is all misleading information and people are just advertising for him. These people are not creating their own business.
Back to the basics of making a website.
You can make your website simple and attractive. Word press is very simple. If you are looking to get traffic, you need keyword research. If you rank organically, meaning in google for free, it is much easier way to get traffic. Now does this sound like better way to earn passive income? Yes, of course, ranking for free is best way.
Therefore you need proper training for online marketing.
There is a way to learn how to build a simple website for your home business.
My number one recommendation, step-by-step training, no sign up fee and no up sells. This will explain more.