Impact the affiliate network was founded in 2008.
The affiliate network gives a commission in return for you sending customer to their website site.  
They basically offer you a commission either per customer sent or
a percentage of the sale that customer made. 
Signing up for the affiliate network Impact is easy and free.
However, you do need a website when applying to the network. 
Also, it can take up to 24 hours or more for approval. 

Today we're going to review Impact Affiliate Network, which is a great site to use to earn some extra income.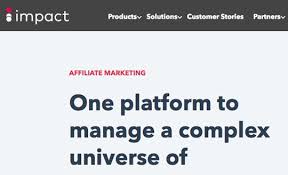 Affiliate Programs VS Affiliate Networks
Before I get into the affiliate network Impact, let's discuss the difference between an affiliate program and an affiliate network.
Affiliate programs typically refer to a single company's setup.
A good example of this is with the hotel company Agoda.
They have their affiliate program setup on their website at Agoda.com and
it is 100% managed by the Agoda company.
The affiliate program is managed by the same company.
Now, affiliate networks are platforms that companies can use instead to place their affiliate program on.
Affiliate networks are helpful by cutting companies cost so
the company doesn't have to create an entire platform to get more sales and advertising.
The affiliate network is used to attract more affiliates so the company has less work.
It also provides a great support team to keep problems at a minimal basis.
Affiliate networks usually have thousands of affiliate programs within them and are a really great way for new affiliate partners to get connected with other great companies within their niche market.
Impact has many other companies within their platform.
Here are some examples of the great companies that you'll find:

How To Sign Up
To get started with Impact as an affiliate partner and
start working for their many different programs, you'll first need to create an account.
To apply click this link https://impact.com
Another important thing to understand is that you may see the words like "Impact Radius" and
you may even have been told to sign up at impactradius.com
However, this actually takes you right to the impact.com home page.
Impact Radius is a part of the overall Impact company and is where all of the affiliate work is managed within.
Once you're on the Impact home page, simply click the "Sign In" button on the top right, which will bring you to the login screen.
Below the login you'll see "No Account. Sign up by selecting the "Partner" option as shown below.

Click the link below to learn how to succeed with affiliate marketing.
Free sign up below!
Next, you'll be taken to a screen to enter your Name, Email, User Name, Password, and Account Display name.
Then simply click the check boxes to agree with the terms of your login and click Create Account.
Your account will automatically be created and you'll see the dashboard of the Impact Affiliate Network.
What's Next?
Even-though you have access to the Impact Affiliate Network Portal, you'll only have the view mode and can't apply for other brands until you complete the verification process. This includes the following below:
Create a public profile that helps to sell yourself and your site. Make this as detailed as possible. This way when you apply for different brands they will accept you immediately.
Submit your business information for your website to ensure everything is compliant.
Validate your email address by clicking on the link sent to your email.
Lastly, search for a brand that you want to work with and apply (more details in the next section).
Below is the screen you'll see. Just click the "Complete Verification" button and you're ready to get started!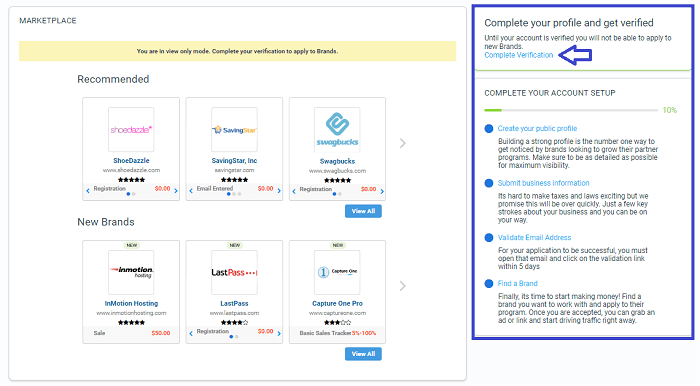 Selecting Your Niche!
Once you have been through the verification process, then you can begin looking for brands. In order to apply for brands you'll have to choose your niche.
If you're not sure what niche to choose it is best to go with a hobby or passion.
Simply, something that you love, are interested in or have knowledge about.
To begin searching for brands, click on the "Brands" tab at the top.
This will show you all of the brands (companies) within the Impact network.
You can sort through them on the right side, but first
I suggest picking from the categories on the left to narrow down your results that fit your "niche."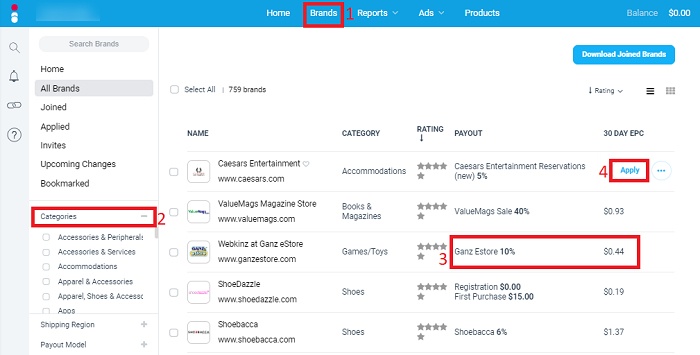 How Your Earnings Work!
After you have narrowed down your search, you will want to pay attention to how much your earnings will be.
Payout: The payout will show you what you as an affiliate will make from working with this company.
Your payout may be a percentage of the sales achieved, or a flat rate per sale. If you need more information, simply click on the brand line and a pop-up box will appear with more details.
How much you get paid is important to know because
this goes along with what product to promote within an affiliate network.
30 Day EPC: This is a sign of the brand's success. The 30-day EPC will show you the average earnings that the affiliates that use this program are making.
The EPC stands for the Earnings Per Click which is the average earnings per 100 customers that visit this brand.
Let me explain a little more about EPC. Suppose 3 Month EPC is equal to US$42.00 and 7 day EPC for an item is equal to US$25
Then here are your earnings:
Past 3 months, you earned US$42 for every 100 clicks (monthly average)
And during the past 7 days, you earned US$25 for every 100 clicks (daily average).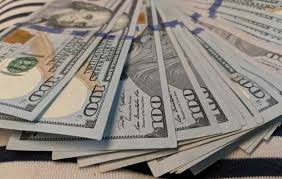 This is important
so you know what to expect based on the volume of visitors that may visit that company from your site.
Also, it is important to know the cost of the product. Your payments are usually by a percentage.
For example, the item maybe $20 and your commission rate may run at 5%, which is one dollar ($1.00).
Therefore, it can take a lot of sales to earn a decent commission.
This is why you want to look for high priced items and quality products.
Earning a high commission rate with good valuable products will keep you in business for the long run. This is your key to long term success!
Types of Affiliate Links
Affiliate links come in many different forms.
Most common are HTML Banners, which are graphics with a link embedded within them that take you to the merchants site.
A more common link is a URL, which you can paste on your website within your articles or
you can hyper link the text with the URL to direct customers to the brand's website.
No matter how you choose to promote your links you will receive credit,
as long as you get the link from the Impact site.
The link will have your unique affiliate ID in it so you'll get credit for the potential sale/commission earned.
What's Next?
These are the basics when working with affiliate networks and doing affiliate marketing.
The key to success with all affiliate marketing is to not be afraid to try new things and to remain consistent.
If you never try, you will never know what you can achieve.
Consistency is key to ensuring your long-term success.
Check out this free sign up below and learn affiliate marketing the right way.
Learn how to build a website and how to get free organic traffic.
Learn how to keep your online business around for the long run!