Builderall Review-Affiliate Program
In this builderall review I will discuss the platform, some of it's tools and the builderall affiliate program and what I have to offer for those who sign up with me.
Builderall is a all one platform used for marketing online. It is a software that helps you create websites, sales funnels and opt-in landing pages for any business or niche. The software has hundreds of applications, many applications are automated. It is simple and easy software to use, that is drag and drop.
The drag and drop editor is called the pixel-perfect technology. The technology allows the user to take any element and drag it where ever they want on the page.
What is really cool about builderall is that it allows three different views that work on desktop, tablet and mobile. These three views have the benefit of working exactly as you want when using a tablet or mobile phone.
Some people do not like clickfunnels, mostly because of the price. Builderall is very inexpensive and has many benefits. There is a 7 day free trial. This will allow you to see all the benefits and you can find it as an alternative to clickfunnels, with so much more to offer.
Affiliate program is explained more towards bottom. Keep reading to get all benefits if you want to be an affiliate and team with six figurer earners. To be an affiliate with builderall you need to sign up on the business plan, which is only $49.90.
Compared to clickfunnels this is so much cheaper. Read below for benefits or watch this video.
When you sign up with my link below, You will be a teamed up with elite members. The name of our team is the Builderall Affiliate Mastermind Team.
Why Left Clickfunnels? Pricing
$97 per month this can be a lot when starting affiliate marketing
20 funnels
100 pages
20 thousand visitors
Unlimited contacts
Custom domains 3
$97 per month is just to create funnels and landing pages, but with affiliate marketing you want to do email marketing, so you can convert your customer and get the sale.
Second reason why left clickfunnels doesn't have an email marketing tool. You have to pay $297/month for the email tool. There is no automation tool for the email unless you pay 297 which is the actionetics.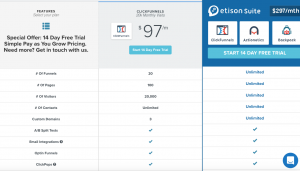 If first starting affiliate marketing this can be a lot of money. When first starting you want to earn and grow your income at same time
So is there an alternative to create websites, blogs, funnels, and also has an email marketing tool that is way cheaper, this is where I found Builderall.
It allows you to lower your expenses at same time growing your online business. It is way cheaper, has lot more tools than clickfunnels, it allows recurring monthly income when using the affiliate program. You can promote other products and use their affiliate program.
Builderall is similar to clickfunnels, drag and drop.
100s of templates to use, edit, fast easy to use, lots of categories to choose depending what niche you are in and what business you are involved in.
Don't have to be an affiliate marketer to use it, if you have website business like fashion and beauty, photography, restaurant businesses, health and wellness.
It has landing pages, two step opt, email opt in, membership area, extraction pages and the list goes on.
If don't know how to structure landing pages and websites builderall gives templates and you just change the headline, images, and fonts.
There is a template if you are a video maker, which is easy to use.
Another thing is their email marketing and automation tool which is called mailing boss allows up to 10,000 subscribers, once pass that can upgrade for very small price, there are video tutorials so can learn how to use builderall, within just a few hours if you put in the effort.
Just like with any software you have to learn how to use. Website builders and email marketing automation are just the beginning benefits of this inexpensive platform.
Another reason why builderall is so cool, their two tier conversion affiliate program allows to have recurring and consistent income.
I only promote affiliate products that have value and I believe in and can provide value to others, and can help them with personal development and business development.
To use all the features including the affiliate program, it is only $49.90 per month.
Can create unlimited websites, sales funnels, landing pages, and has the email marketing automation tool and all the other tools that were mentioned, such as facebook integration tool, which have so many benefits for you as an online marketer.
This price is big difference from clickfunnels. Free trial for 7 days, so you can check it out.
Builderall Affiliate Program
First month someone buys, you get 100% commission and then on second month and recurring months you earn 30% and that's how you earn recurring income and more leads you get, the higher the recurring monthly income, which is tier one.
Let's say the individual signed up someone through their link, you will also get 30% of that tier 2 recurring monthly income.
Tier one- so first month 100% on first commission and after that the second month and so on you will get 30% recurring income every month.
Tier 2, 30% for second month and onward if someone from tier one signs someone up and that's how the recurring income works.
It is possible to sell more than 21 licensing in one year, because there are so many benefits and features with builderall it is not hard to promote. Even if you put the affiliate program aside. All the tools it has is incredible. It is easily possible to build $2,000 recurring income in 3 months.
Let's play it safe, say we get 2 people a month, (12 x 2=24) one year 24 people, lets say 85% want to do commercial licensing (affiliate sales), lets say the other 24 bring on 24 in one year, immediate earnings $1125.60 and monthly income is $7,217.91
As you can see, this is pretty good for one year. As mentioned it is very possible to get to $2,000 per month in 3 months.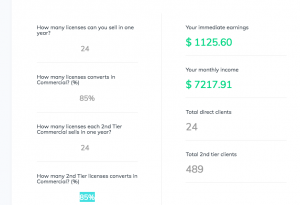 This above is the builderall calculator. Showing results for one year. Your immediate earnings are $1125.60 and your recurring income every month of $7,217.91   As you can see this very good for one year. Wouldn't you agree?
If you are new to affiliate marketing, or even if not new and not sure how to promote builderall.
Once you sign up for Builderall Business Plan I will email you everything to get started.
Trained by a 6 figure affiliate marketer, including a free course with 20 plus videos, access to private facebook group so you have help, weekly livestreams, one on one help, access to the best affiliate program on the market, and get some of the best digital marketing tools you can use to build other businesses for an incredible price.
Once you sign up, I will email you all the bonuses.
All Benefits Under Business Plan Builderall
Free affiliate Marketing Course
Access to our Elite Mastermind group
Unlimited one on one mentoring
There is private training course on promoting builderall to get to $2,000/mo in 3 months
Weekly private mastermind live streams
Facebook advertising for Master Entrepreneurs Course (Worth 497)
Pre-made viral Funnel that you can use to start making money
Full access to 7 day email swipes
Private facebook group for our builderall affiliate mastermind Team
Free traffic Methods that work
All the tools that builderall provides
Full mentorship, training, and support
Join Now! Start Earning Commissions!
Builderall will get you a car! If get 100 leads

Here are some more benefits with Builderall if not an affiliate.
You can create virtual stores, professional looking websites, sales pages, lead capture pages, or any kind of internet marketing page with this site builder. It is very easy to make a website. As mentioned it has many applications.
Responsive Page/Blog Builder
There is the ability to control all the pages with the feature called the responsive website/weblog builder. Whatever pages you create can easily reach top results in the most popular search engines, such as google, because it has an optimized system. Also, can make opt-ins and squeeze pages.
Professional E-mail Marketing
The email marketing system allows you to create and automate new audiences or take existing contacts so all your potential clients are all in one place. It can run auto-responder campaigns fast and easily, controls your leads by using tags and behavioral triggers. This allows you to send as many emails as you want.
E-mail Builder
This is called the responsive E-mail builder, which allows you to write, customize emails, and send them out. There are templates and campaigns that show your products and services. These templates demonstrate the value and quality your products to all the people in your list.
Animate Videos Creator
This application allows you to create animated videos and sales videos, unlimited. You can design your own characters, expressions, and choose from many characters. You can also download and publish to your own website, youtube channel, FB account and much more.
Floating Video Creator
You can make a floating video for your web-site in a short period of time, without spending on expensive equipment. This allows you to impress your customers by sending messages in a different and unique fashion.
Design Studio Mockups
With this application you can design cool images, videos, and FB posts that get the attention and drive more traffic than having a regular Facebook post. You can create your own e-book covers and mockups this design studio feature.
Interactive Presentations
There is the ability to create presentations, giving you an unique communication tool for your web-site. You can down load the work you create, create a custom URL, and incorporate your demo with your existing website, having the benefit of a professional presentation tool.
SEO Tool
Gives you all the information you need to make your page SEO-perfect and boost it to google, so you see results.
Facebook Integration Tool
Here you can control your leads and potential clients. It allows you to collect leads and create a list while building relationships. This tool uses notifications, posts you make and apps, directly integrating everything into a Facebook page.
Browser Notifications- which tells your followers and clients that an event, promotion, offer is coming. The clients can see the notifications while online.
Lead Capture Tools
With this tool you can capture leads through FB logins, e-mail forms, browser notifications, quizzes, smart opt-ins, etc. Here is a very cool way to optimize your marketing strategy.
Heat Map Tool
You can track where visitors click on your pages and know which pages attract best. This way you can have information to know where to put your Call-To-Action buttons, such as Buy Now, so your conversions are higher. Builderall platform integrates heat maps inside your blog or web-site.
Android & IOS App Creator
Many people are stuck on their phones today, with this tool you can build an app, allowing you to build a presence on your customer's cell phone. This is really cool! You can offer products and services directly on the customer's phone. Can have product sales, table reservations, hotel booking, image galleries, push notifications, delivery service, etc.
If you need help when creating your business online, there our many video tutorials that explain all tools and benefits.
This photo here only shows some benefits for the 3 plans with Builderall.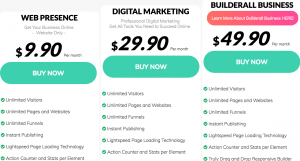 As you can see builderall has so many awesome benefits. And it is way cheap compared to other softwares. Check out Builderall today, and build your business with the hottest software on the market.